The birth of a baby is one of the happiest moments of a parent's life. All friends, family members, relatives, coworkers, and neighbors come with lots of useful and fun gifts for the soon-to-be-born baby and soon-to-be mom. That event called a baby shower which every parent has to show how much important is their baby really is.
If you have gone to baby showers or even had one, you know how much important is to play certain baby-themed games on occasions like these. Baby shower bingo is one such game, and the game will be discussed in this article with its two different variations.
Scroll down to see the links to download free printables. In addition, we will continue to update new designs in the future, so bookmark this post to download when needed.
Traditional Baby Shower Bingo
Traditional bingo game is mainly for bigger groups and is widely popular and usually played more often in baby showers. Normally in bingo card games, you have to fill each card, and when the playing group is relatively big, it can take some time. In the traditional baby bingo version, you don't have to fill in these cards. You don't have to waste time, and instead, you just get right into it. Following are the detailed instructions:
What to Prepare
Each guest will have a printed card with them. You'll have to print individual bingo cards for each guest. As this bingo has printed cards, the cards will be sturdier, and it will make it easier to play and use.
You will need something for the bingo square to be marked. A sticker, pen, or highlighter is perfectly fine, and you can use it for markings.
Take out one bingo card that will be used as an extra bingo card and remove all the squares from it. You being the host, will keep this bingo card.
Keep something like a pouch or a bowl or cup that is big enough to keep all the squares in. These will be later taken out during the game.
How to Play Prefilled Bingo
Take out the printed bingo cards and give each printed card to each individual player with a sticker or highlighter for markings.
The middle block is a free area.
You, the host, will have an extra bingo card with the squares cut out.
All these squares will be put in a bowl, cup, or hat to keep them inside. You or whoever the host is will then pull one square out one by one and read it.
The guests now will have time to figure out if any of their cards have the word you just spoke of. If they do, they will highlight it or put an x on it.
This will be repeated by the host until there's a bingo square row of five words diagonally, vertically, or horizontally. When a row is done, that person will say Bingo and win!
Baby Shower Gift Bingo
Baby shower gift bingo or blank bingo is usually played by smaller groups of guests, closer to the hosts and their families. This version of baby bingo needs more guest participation and is slightly more time-consuming than regular bingo.
This bingo game is different from the traditional version as guests will get blank cards and have to fill them. No printable cards are used in baby shower gift bingo. The soon-to-be mom plays it while she's opening the gifts. Following are the detailed instructions: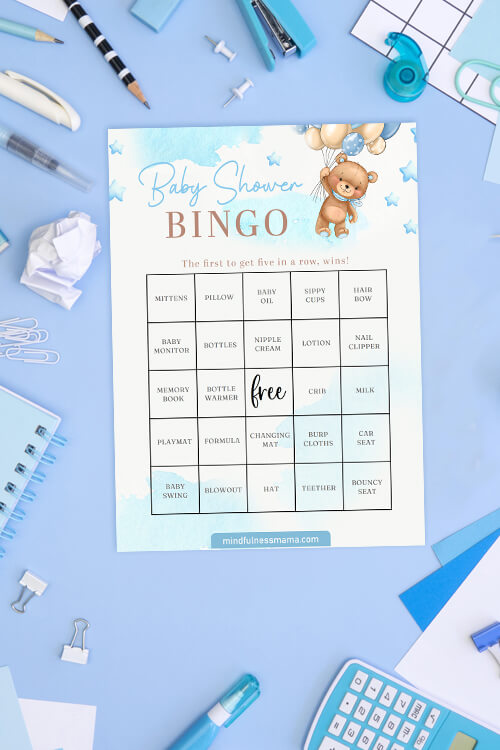 What to Prepare
Print individual blank cards, one for every guest.
A pen or marker for guests to fill their given cards.
A highlighter or marker will be used, just like in the traditional baby bingo for guests to mark squares.
The soon-to-be mother will be opening gifts given to her and the baby at this time; the guests will play the game meanwhile this is happening.
How to Play Blank Bingo
Print blank baby shower bingo cards for each guest.
Give the blank cards with pens or markers to guests before the soon-to-be mommy starts to open gifts.
Ask the guests to write the names of the gifts the soon-to-be mommy will receive. You can start the game when all the cards have been filled.
Now the soon-to-be mommy will start opening her gifts. When each present is open, guests will check if any items are in their cards.
If any guests have guessed correctly, they'll highlight the word.
The guest who fills one row of squares horizontally, diagonally, or vertically says "Bingo" out loud and wins the game.

Other fun activities and games you can play at the baby shower: