Pregnancy is a happy time in the lives of pregnant mothers. If you have relatives who live in other cities, how did you remotely report your pregnancy?
So far, a bouquet with a postcard may be a clever idea. You can also send something with a courier or write letters because it could be an interesting idea.
This article will let you know more cute ways to deliver a long distance pregnancy announcement to parents.
Read on for some beautiful ideas and inspiration to make your pregnancy announcement amazing, whether it's by phone, email, mail, gift, or video chat.
Creative Long Distance Pregnancy Announcement Ideas for Parents and Family
You might tell your parents you're pregnant long distance in several ways. The most important thing is to understand your parents' personalities and predict their reactions.
1. Phone Call
Calling your parents will probably not raise any concerns on a random Tuesday night. It's a clever idea to include it into the everyday conversation to catch them off guard!
When they ask, "How are you doing?", you say "Pretty good," "I tried out a new dish the other day, and I was also thinking of taking a prenatal yoga class..." Or you can say, "It's been a bummer that I've had to give up sushi for lunch for the past nine months, but work is doing well!"
Try another way! You call your parents and chat with them about little things. Meanwhile, play a recording of your baby's crying to get them curious.
Well, let them guess! Finally, tell them that the sound is the cry of their future grandchild. Here comes the burst of emotions!
2. Virtual Pregnancy Announcement with Video Call
Is there anything you can do to make them feel special? A virtual pregnancy announcement via Video Call is arguably the most personal environment to do this because you'll most likely want to see or hear their response.
Video calls are probably the closest thing you can get to true face-to-face contact with a long-distance family. These have the bonus of allowing you to observe their emotions in real-time, which is a priceless experience.
Many apps help you do the video call, to name a few:
Facetime
Zoom
Skype
Whatsapp
Google Hangout
Facebook Messenger
During the video call, several make loved ones feel special. Here are a few examples!
Ultrasound Photos
In the middle of a discussion, show them a picture of an ultrasound and catch them completely off the surprise!
Tell them you have something you want to show them to garner their feedback and attention, and then show them the ultrasound photo!
Wear Clothes with The "Mom" or "Dad" Writings
A themed t-shirt that says "I'm pregnant," "We'll be parents soon," or something similar will be a creative idea. Everything will be clear here without words.
Wear cute mommy-to-be or daddy-to-be t-shirts while you're on the videophone and wait for them to understand what they're saying! Explore more t-shirt ideas here.
Folding Baby's Clothes
While you're talking, put a basket full of clothes on the screen. Start folding the clothes with a baby onesie or pajamas thrown in for good measure. Hold it up to the camera and fold it up in a large exhibition. Expect a tremendous response!
Cute Baby Items
Get a Baby Due Date Onesie, a Bib, or a pair of baby shoes. Then see how long it takes them to figure out what you're carrying and why! This is a basic but memorable design. Find more onesie ideas here.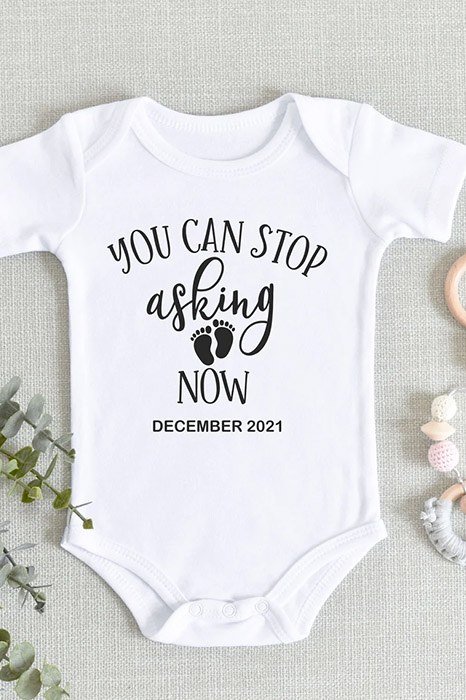 Take Part in a Game
Many families enjoy their time together by playing games with one another. Before playing a game with your family, propose games like Pictionary or Kahoot. Let them guess what you're drawing if it has anything to do with babies.
3. Mailing
If you can't tell your parents you're pregnant in person, write them a letter or mail them. But do it originally because platitudes have no place here.
For example, you can send a message on behalf of your future baby: "Dear grandmother and grandfather, I will be there soon, wait for a visit …" etc.
4. Movie Recording
Set up the video camera with your husband's aid and videotape your announcement. You might encourage him to kiss your belly, grin, and say into the camera: "Guess what's in there?".
Send your parents this video and ask them to call you before opening it. This way, you will see their first reaction.
5. Taking Photos
If you have already received photos from an ultrasound scan, you can use them to create a photo collage or insert them into a baby frame.
Do not forget to leave the appropriate signature, for example: "There will be a replenishment in the family soon" or "Beloved grandparents: I'm on the road!"
If you are thinking about how to tell your parents about your second pregnancy, take a photo of your first baby in shoes and put shoes for a newborn next to it, like in this photo:
6. Send a Letter
Duplicate the ultrasound scan and mail it to yourself in a beautiful envelope. It's a creative idea to wrap the photo in a soft fabric that looks like a newborn diaper before displaying it. Alternatively, you can compose a message from the unborn kid.
Another fun way to convey the news is with personalized cards or presents. You can bet they'll call you right after they open it!
The outer writing on pregnancy cards frequently reveals what they're for, but here's one that's camouflaged as a possible thank you letter.
This adorable and considerate gift box is likely to bring tears to your eyes! Please send a letter instructing them not to open it until your phone or FaceTime.
It includes confetti to throw a genuine party when they find out. How exciting!
If you have the time, go out and get some confetti for yourself so you may celebrate together. Your parents will feel even more special and close by due to the kind gesture.
7. Special Gift
Prepare a gift for a distant relative that will brighten her day. Wrap an "I Love Grandma" bib and send it to your mother or mother-in-law, for example. Send a pacifier or a baby rattle to a soon-to-be aunt. Then relax and wait for the call that starts, "You're pregnant?"
Jewelry as a Gift
Are you unsure how to inform your mother you're expecting a child? A new necklace in the rotation will always make a grandmother-to-be pleased.
Give your mother a simple and charming necklace with the word "grandma" or even the name or initials of their upcoming grandchild (if you've already settled on a name)
Don't forget to include a pregnancy announcement card in your gift box.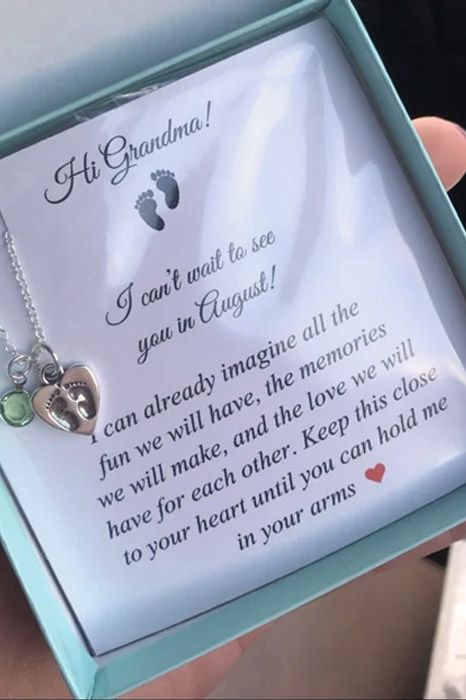 A Pair of T-Shirts
You can order a pair of custom t-shirts on the websites. Order them for your parents and send them to their address.
You can, for example, make a drawing of a toddler on them with the caption "I'll be a mom soon" or "This is what a future dad looks like".
Send to your parents the grandparents-to-be some new clothes to wear proudly after the reveal to announce your pregnancy. They'll want to tell everybody about their new joy!
Baby Things
Consider your parents' reactions when they see you wearing this lovely onesie. It's full of emotions, memories of when you were so young, and the realization that you're now old enough to have your child.
It'll make their hearts glad just looking at it, and I'm sure they'll be counting down the days until they can place it on the little tyke.
A Puzzle
Sending this charming customized puzzle to your family will make them work for the news. You will almost certainly receive an exciting phone call once they grasp what they are piecing together.
Choose a photograph that they can frame and hang afterward. Your parents will be happy every time they see it. Or simply an egg with secrets inside.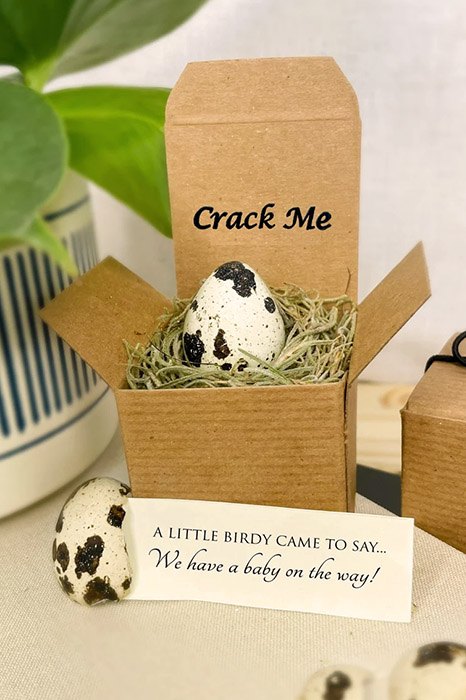 Countdown Calendar
Send them a calendar with the heading "The number of weeks till you're grandparents." What a lovely announcement, along with a present that allows them to join you in counting down the days!
You may even mark the due date and include additional notes, such as "Your grandchild-to-be is the size of a melon this week!" at 24 weeks.
Candy Boxes
Make your parents a box of candies from ingredients they love, such as coffee candies, chocolate candies, or strawberry gummies. Wrap it up carefully and send it to your parents' house.
The most interesting part is the pieces of paper used to wrap the candy. Before wrapping the candy, write a sweet "confession" on the inside of the piece of paper that tells them about your pregnancy.
Imagine the happy look on your parent's faces when you peel the candy and see your messages.
Coffee Mugs
Do your parents like to start their day with a cup of coffee or tea? Give them each a new cup and write the following sentences on the bottom of the mug:
"You're going to be a grandma!"
"You're going to be a grandfather!" 
It will be something they see every time they finish their morning beverage, and it will make them grin for the rest of the day. You may easily find a custom mug on Etsy if you aren't the artistic kind.
A Note & Pinky
Attach a binky to a message that reads:
"Dear Grandma and Grandpa, I'm writing to express my heartfelt gratitude for everything you've done for
Please save this for me if I require it when I visit. Knowing my mother, she'll most likely forget about it.
See you in (month of due date)!"
Love,
(Insert your child's last name)
Announcement about A Promotion
Tell one of your parents that you learned about their major job advancement and wanted to send them a gift of congratulations. Tell them they've been promoted to grandparent status when they inquire what promotion you're talking about.
Final Words
It is not too difficult to send a long distance pregnancy announcement to parents. And they will understand your sincerity.
Don't be frightened to put your faith in them. Their counsel and support are critical to you right now. So, put your creativity and secret talents to good use and start working on one of these fantastic pregnancy announcements.