As a parent, no one wants to deal with the pain of losing a child to a miscarriage. But unfortunately, this condition is increasingly common, often occurring in early pregnancy or closer to term.
It is difficult to imagine the pain of losing a child. Also, many of them choose to bury this sad memory forever. Others choose to tattoo meaningful symbols in memory of the child they have never met.
In this article, we will provide miscarriage tattoos for moms and dads to remind parents of what happened. These tattoo designs also show their affection for their child.
Miscarriage Tattoo Ideas for Couples / Parents
The following designs are for parents or couples who have just experienced baby loss. They show the sympathy of both.
1. Coordinating Angel Wings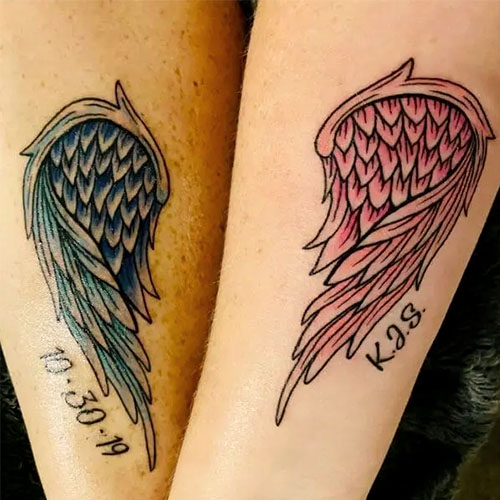 Parents receive the same pair of wings in two different colors. When these two images come together, a heart is formed, symbolizing their love for their child.
2. Roman Numeral Dates
This design is used to commemorate the death of their child. Through it, they can celebrate a short but precious life.
3. Matching Footprints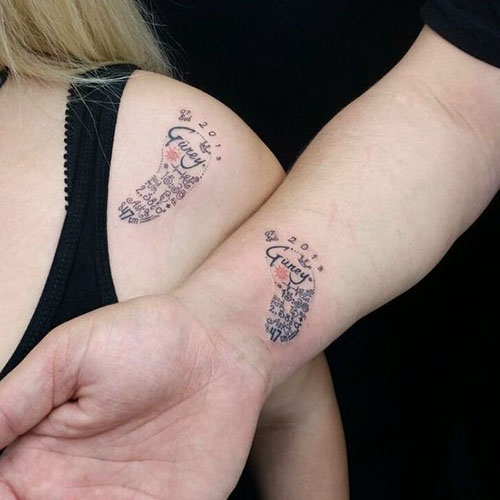 These symbols represent a short journey of a tiny baby that once existed. Yet, those tiny footprints represent their child's impact on their memories and lives forever.
4. A Special Number
Many couples choose a specific number to honor their angel baby.
This number could represent the number of miscarriages,  the birth order of their child, or just a lucky number that is meaningful to both of them.
5. A One-of-a-kind Design
You don't have to commemorate your loved and lost with a traditional miscarriage-related design.
For example, one girl called her angel child "a seahorse." As a result, she and her husband received the seahorse symbol in memory of the special relationship with their never-before-seen child.
6. Birds Flying Away
A bird flying off a branch is a popular meaning miscarriage tattoo. It depicts a lost infant flying away.
A flock of birds in flight symbolizes freedom of the soul and mind and represents life and constant movement. It is a powerful tribute.
7. Infinity symbol
The infinity symbol represents steadfast love. It can hold a deep meaning of spirituality, beauty, love, and power. In addition, in today's complex life, these tattoos also represent a feeling of simplicity and balance.
For moms who have just gone through pregnancy loss, it also represents that their baby will still live forever in their hearts and minds.
8. Meaningful Quote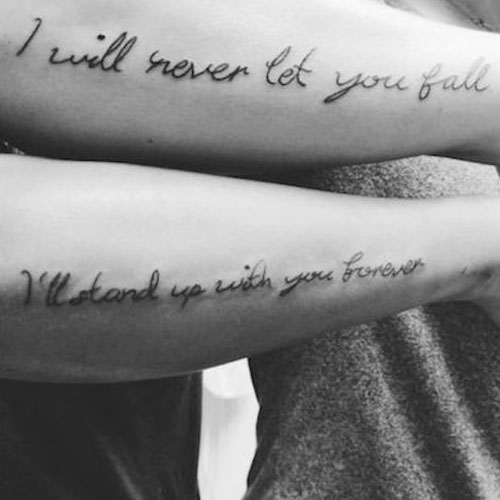 Of course, sometimes a symbol is not enough to show what's on your mind. The fact is that there is no better way to express the feelings of couples who have lost children than with a meaningful quote. Sometimes a simple quote says it all.
9. Rainbow
A rainbow is also a good idea to remember the loss of a baby through miscarriage, loss of newborn baby, stillbirth, or neonatal death.
This idea comes from rainbows often appearing in the sky after a storm. Rainbows are also considered good emotions that appear after a period of darkness and chaos. It implies that everything will soon be okay with their child in heaven.
10. "&" Sign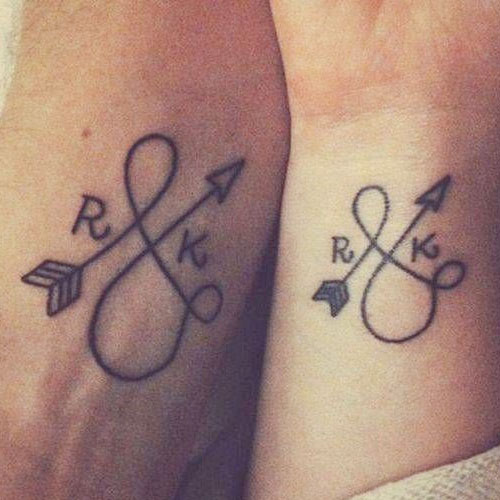 The "&" represents union, togetherness, friendship, marriage, or attachment to a person. So they are the perfect symbol to bond you with your child forever, so you know your child will always be with you.
Miscarriage Tattoos for Moms
It seems that mothers suffer the most during pregnancy and when they lose a child, both physically and mentally.
1. Feather
Have you ever heard that when you see a white feather, an angel, or a lost loved one is nearby? For some cultures, feathers are messages from the spirit world. That's why the feather logo is also a choice to commemorate the loss of a baby.
2. Angel Wings
The "angel wings" design symbolizes protection, guidance, faith, and hope. It also expresses the loss of mothers when they can never see their children forever.
In addition, angel wings represent reincarnation and rebirth, making them very meaningful to mothers of a stillborn baby.
3. Baby Footprint
The "footprint" tattoo represents what someone left in your life, who was here before, walking beside you, but now they are no longer there.
It deals with the past, absence, and spirituality rather than physical presence.
4. Flowers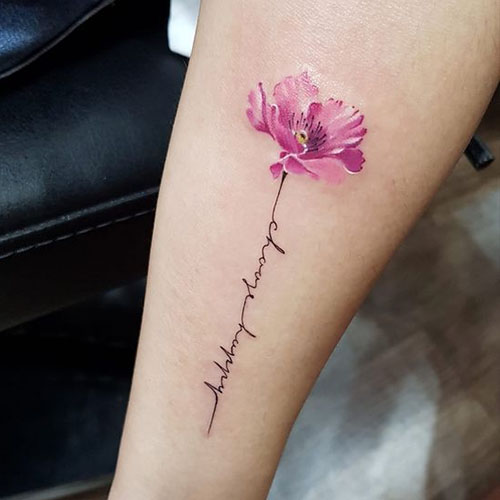 After a loss, flowers are often given as a gift of sympathy. However, it is also a poignant symbol of remembering your lost child.
Roses are one of the most popular designs. It is not only a symbol of love but a symbol of remembrance.
A flower tattoo also symbolizes something short-lived but of endless beauty. That beauty persisted even after the petals withered.
5. Butterfly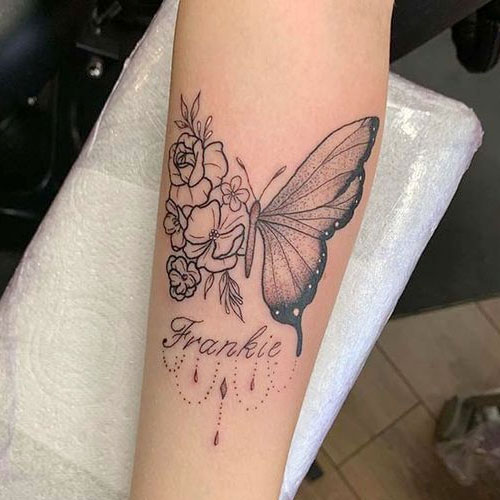 For most women, butterflies are one of the most preferred tattoo options. They are available in a variety of colors and shapes to choose from. You can also easily customize them to fit the situation.
The fact is that butterflies go through a drastic transformation. Therefore, this animal is the perfect symbol of remembrance and grief.
6. Moon and Stars
Many of us often tell our children that we love them "to the moon and back." You can make it come true by getting a tattoo of the moon and stars.
The night sky can be a constant source of comfort for many people. Also, although the stars may be far away from us, we still see their light every night.
7. Baby's Name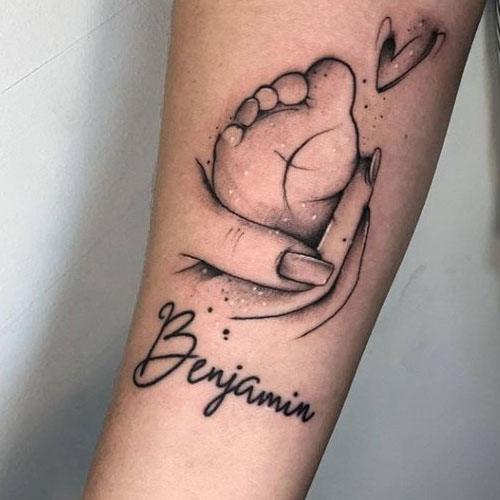 Many people name their children even before they are born, then their children never officially receive that name.
Therefore, getting a tattoo of these names will bring back the memory of their baby. Although they may only exist on this earth for a short time, their existence is essential.
8. Heart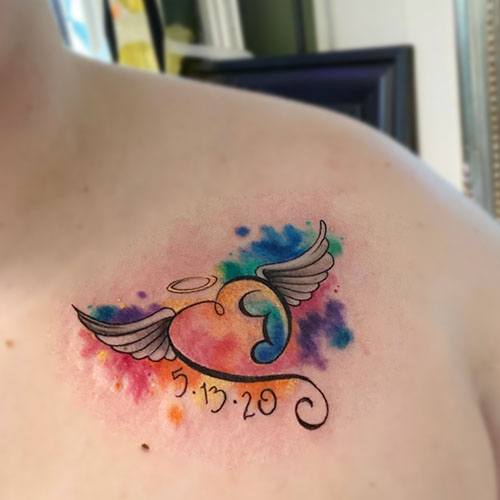 The heart is one of the classic designs about love. You can customize it in various sizes and colors to suit the occasion.
It is a literary representation of parents' love for their baby taken from the world too soon.
9. Elephant Miscarriage Tattoo
It is said that elephants never forget, just like mothers never forget their babies, whether they live or leave this earth.
Elephants are the most devoted mothers in the animal world because they take their babies with them wherever they go. Hence, it is not surprising that they represent the eternal bond between mother and child.
10. Little Hearts
We all know that miscarriages can happen many times and that little hearts can symbolize each loss in a delicate yet emotional way.
Miscarriage Tattoos for Dads / Guys
Daddies are often very strong because they have to deal with external challenges. However, it is also difficult for them to hide the pain of losing their child. That's why they often get tattoos as a way to relieve that sadness.
1. Holding Hands
It is a beautiful tattoo of a baby holding his father's finger. It is truly a moving tribute to a lost child. Furthermore, it also shows that the father-son relationship will last forever.
2. Birds on A Branch
Another great miscarriage tattoo design for daddies is the bird. It has long been a sign of peace, freedom, and health.
A bird in flight represents a loss that is gone but never forgotten.
3. Roman Numerals and Baby's Name
You can use Roman numerals to commemorate the date of conception, the day you found out your wife was pregnant, or the day of a miscarriage.
4. Tree
Many baby loss tattoos are inspired by nature. The fact is that the tree is one of the powerful symbols of life. It represents that life will continue through each season of life, implying that your child will soon be reincarnated.
5. Lifeline or Heartbeat
Getting a lifeline tattoo in memory of a pregnancy loss is a simple yet meaningful tattoo idea for dads.
6. Too Beautiful Quote
Sometimes a simple statement says it all. For example, dads can tattoo the most beautiful quotes to describe their children or express their love for the children.
7. Poppy
It is a symbol of rest-fullness and peace in death. This flower is for August, the month we are supposed to meet our little one.
8. "Amor Vincit Omnia"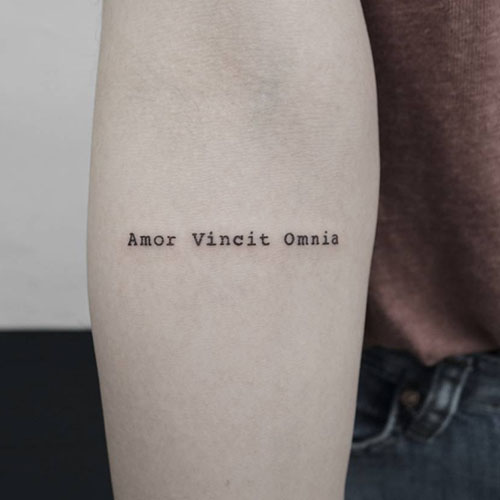 Using Latin phrases to say something meaningful is a common symbol trend amongst tattoos for men. One unique choice is "Amor Vincit Omnia," which means "love conquers all."
9. Dandelion Seeds Floating In the Wind
Miscarriage may not just happen once. So, this symbol can symbolize the number of children who have gone.
10. Angel Baby Tattoo
This tattoo is also a remarkable way to remember this previous life forever.
Other Pregnancy Loss Remembrance Tattoo Designs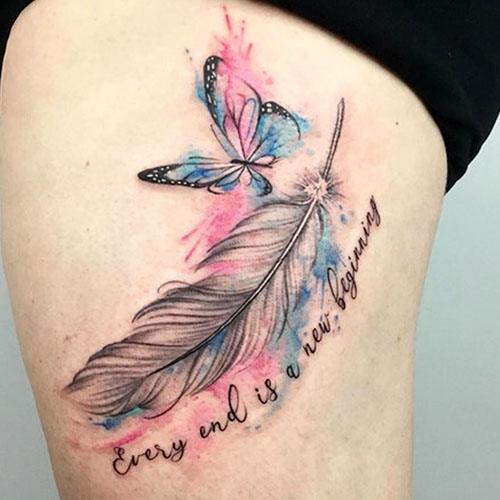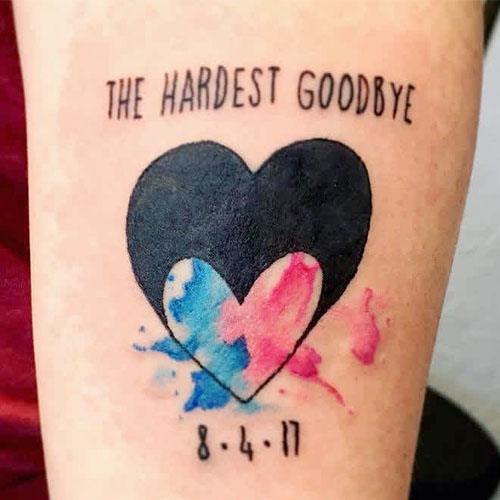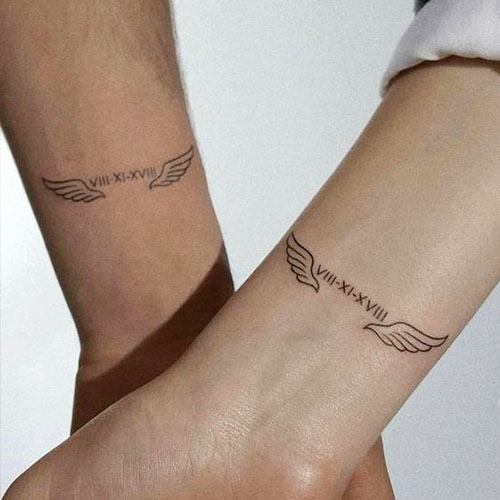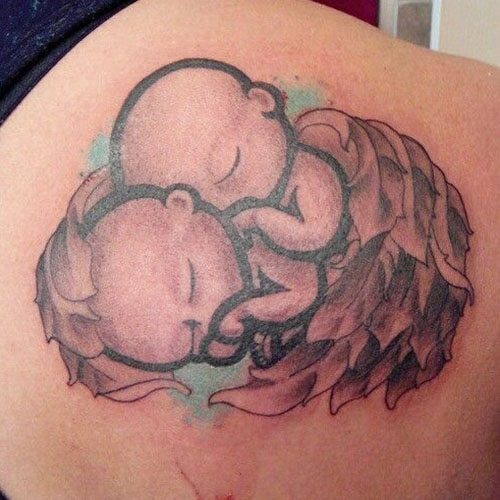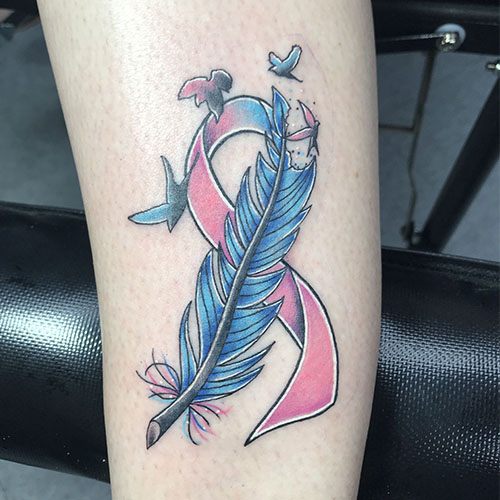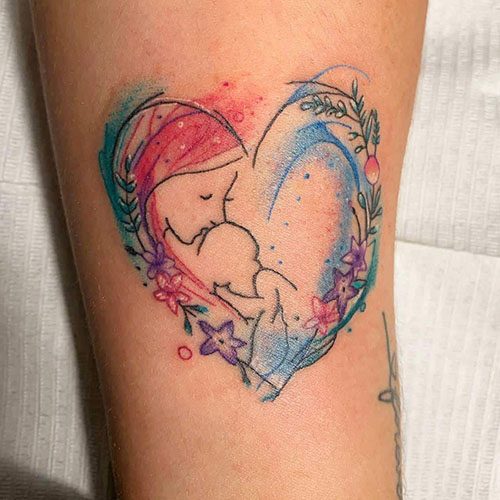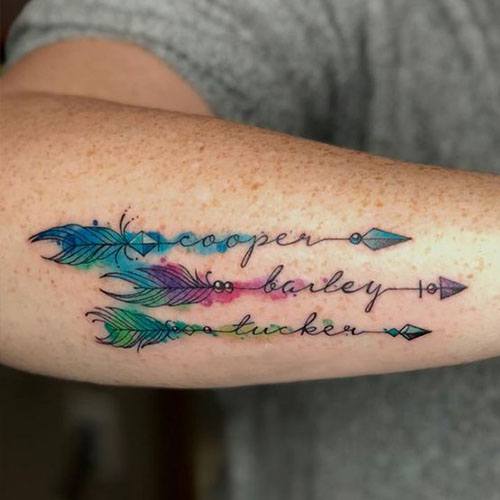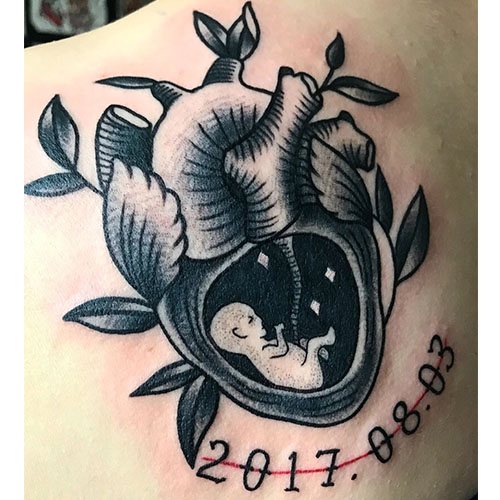 Miscarriage Quotes for Tattoos
Many parents want to express their sadness and affection through a quote. It is also a popular type of miscarriage memorial tattoo. Here are a few suggestions for miscarriage quotes for tattoos:
Never in my arms; always in my heart.
Too beautiful for earth.
I carry you in my heart.
Always on my mind, forever in my heart.
I will carry you.
I carry your heart.
I still carry you.
Forever in my heart.
Too beautiful for this earth.
"I hold you in my heart.
Planted on earth to bloom in heaven.
Tu me manques.
You will always be my favorite WHAT IF.
The struggle is part of the journey.
Is There a Symbol for Miscarriage?
The answer is yes.
The pink and blue ribbon is a symbol for miscarriage. Specifically, it symbolizes baby loss awareness, including loss during and after pregnancy, miscarriage, stillbirth, neonatal death, and SIDS. Also, you can remember this sad memory through animal or flower tattoos.
What Flower Represents Miscarriage?
There are many flower symbols to symbolize this loss. The most popular choices are chrysanthemums and roses.
What Animal Symbolizes Miscarriage?
After overcoming the grief of a miscarriage, it is wise to give women a keepsake to remember the lost pregnancy and help them move on. The butterfly is a famous symbol of pregnancy loss.
The elephant is also a popular and robust symbol for losing a baby.
Is It Ok To Have a Tattoo After Miscarriage?
Many women have found serenity and hope in receiving meaningful baby loss tattoos.
However, it is essential to have some tattoo experience unless you have the budget to remove the tattoo. The fact is that tattoo removal can be expensive and sometimes painful.
You need to consider many factors if you are interested in getting a tattoo commemorating a miscarriage. You can also get help from an Instagram tattoo artist whose work you love.
Some mothers have shared their stories and tattoos on social media, and you can get some good ideas from them.
We believe you know how to choose what's right for you.
How Long After a Miscarriage Can You Get a Tattoo?
We recommend giving your body some time to heal before getting the tattoo done. If your body is in the process of healing, getting a tattoo may not heal or take a long time to heal. So overall, our recommendation is to wait a little while.
In addition, you should also consult a doctor or medical professional to receive the best advice.
The Bottom Line
Tattoos can almost be permanent. Hence, getting a tattoo is one of the easy ways to share love with someone, no matter how short their life is.
After a miscarriage, it can be challenging to find an easy way out of grief. In addition, many parents find it challenging to open up about this grief. That's why they get baby loss tattoos as a solution to remember this loss.
Hopefully, with the miscarriage tattoos for dads and moms above, you will find a design, an idea you love to honor and memorialize your lost baby. Have you gotten a miscarriage memorial tattoo? Tell us about it in the comments!