When you name your child, you're creating a legacy. It's one of the most important decisions you will ever make, and it's something you'll want to get just right. So when deciding on a middle name, it's best to start with a name that has a meaning behind it. After all, choosing a middle name is a way to honor and respect the man or woman who has shaped your life.
This article will list the best middle names for Ryder, whether you're naming your child after your dad, your hero, or yourself.
Best Middle Names For Ryder
Below are suggestions from which you can find an appropriate middle name to go with Ryder.

| Name | Initials |
| --- | --- |
| Ryder Lennox | RL |
| Ryder Ochre | RO |
| Ryder Lebron | RL |
| Ryder Bowie | RB |
| Ryder Generosity | RG |
| Ryder Christmas | RC |
| Ryder Dune | RD |
| Ryder Rio | RR |
| Ryder North | RN |
| Ryder Discovery | RD |
| Ryder Rhythm | RR |
| Ryder Bridge | RB |
| Ryder Fey | RF |
| Ryder Bingo | RB |
| Ryder James | RJ |
| Ryder Italia | RI |
| Ryder Story | RS |
| Ryder Branch | RB |
| Ryder Sabbath | RS |
| Ryder Zeppelin | RZ |
| Ryder Jinx | RJ |
| Ryder Leaf | RL |
| Ryder Pistol | RP |
| Ryder Royalty | RR |
| Ryder Storm | RS |
| Ryder Solo | RS |
| Ryder Roma | RR |
| Ryder Byrd | RB |
| Ryder Halcyon | RH |
| Ryder Kit | RK |
| Ryder Grace | RG |
| Ryder Louise | RL |
| Ryder Power | RP |
| Ryder Joe | RJ |
| Ryder Thelonious | RT |
| Ryder Terra | RT |
| Ryder Haven | RH |
| Ryder Carl | RC |
| Ryder Kai | RK |
| Ryder Kash | RK |
| Ryder Win | RW |
| Ryder Maison | RM |
| Ryder Imagine | RI |
| Ryder Elder | RE |
| Ryder Leigh | RL |
| Ryder Hayes | RH |
| Ryder Heron | RH |
| Ryder Steel | RS |
| Ryder Comet | RC |
| Ryder Solace | RS |
| Ryder Hunter | RH |
| Ryder Kulture | RK |
| Ryder Karma | RK |
| Ryder Garland | RG |
| Ryder Seth | RS |
| Ryder Armistice | RA |
| Ryder Huck | RH |
| Ryder Halo | RH |
| Ryder Strong | RS |
| Ryder Queen | RQ |
| Ryder Dawn | RD |
| Ryder Comfort | RC |
| Ryder Oak | RO |
| Ryder Apollo | RA |
| Ryder Bleu | RB |
Ryder Name Meaning
Ryder is a unisex name of English origin, with multiple possible meanings. It could mean "mounted warrior" or "cavalryman," coming from the Old English word ridere. It could also mean "messenger" or "courier," coming from the Middle English word ryder, meaning "to ride." It is pronounced either "RY-der" or "RYE-der."
Popularity of Name Ryder
The SSA's 2021 reports showed that Ryder was the 111th most popular boy's name and 993rd most popular girl's name. Specifically, there were 3,403 baby boys and 256 baby girls named Ryder, accounting for 0.18% of the total male births and 0.01% of the total female births. As of 2021, there were 56,626 babies named Ryder. The year that the first name Ryder was used the most was 2015, with a total of 4,155 babies. Compared to 2021, its use decreased by 4.96%. Additionally, this name is most commonly used for babies in Hawaii, Nevada, and Alaska.
Famous People Named Ryder
| Name | Occupation |
| --- | --- |
| Ryder Londo | Actor |
| Ryder Hesjedal | Cycling |
| Ryder Windham | Novelist |
| Ryder Sloane | Crew (film/tv) |
Celebrity Kids With The Name Ryder
| Name | Celebrity Parent(s) |
| --- | --- |
| Ryder Falcon | Rodney Atkins |
Nicknames For Ryder
We are currently updating the data for this section. Please check out our other sections as we work on this one.
Similar Names For Ryder
Rhys
Ryleigh
Tiger
Ryan
Kaiser
Rhyan
Ryker
Riker
Ryann
Heidi
Riley
River
Reid
Ryden
Rudy
Jayda
Rivers
Rider
Jaida
Roger
Sibling Names For Ryder
Wyatt
Algar
Linzi
Sawyer
Edbert
Oakley
Thayer
Rad
Braxton
Semanntha
Dreama
Dalton
Fleetwood
Riley
Ravyn
Grey
Axe
Jax
Ember
Jameson
Lanchester
Rainbow
Reed
Rylan
Skyelar
Numerology Meaning For Ryder
If you are interested in astrology or the zodiac, you should consult the name numerology numbers to choose a suitable name for your child.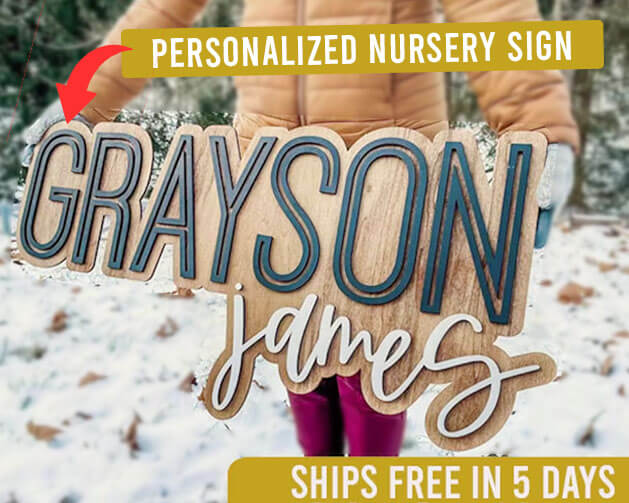 Baby Name Sign
Celebrate your baby's name with this personalized nursery sign! It's high-quality, charming, and elegant. Free shipping and 5-star service. Don't miss this opportunity to create a lasting memory for your little one.
Destiny Number: 5
This number is good at communication. You can talk with many people in several ways. Your ability to communicate is helpful while making friends. Due to your outgrowing, you may want to do this frequently.
Your restlessness, which pushes you to seek new adventures, travel, and discover new cultures, might be the cause. Due to your limited ability to focus and propensity for boredom, you always search for novelty and movement. However, your desire for new things makes you enthused, progressive, and daring.
Desire Number: 5
If your soul urge number is 5, you are eager to study and discover as much as possible. Your charm is endearing, and your excitement spreads like wildfire. Furthermore, you might want to travel and look into new career opportunities.
The biggest obstacle is facing your fears. Despite having numerous friends and lovers, you can be more afraid than they might be. Your urge to explore might sometimes seem negative via drug use, excessive drinking, and shopping. You have many godsends for success in every way. However, acquiring discipline is essential to achieving success.
Personality Number: 9
If you possess the personality number 1, you may have the following traits confidence, loyalty, creativity, and leadership skills. Besides, it would help if you improved your ego, stubbornness, overconfidence, and lack of compassion.
People with this number are naturally born leaders. Besides, they are a fearless explorer who takes risks. You exude such confidence that you frighten people. It would help if you remained calm, approached situations with less enthusiasm, and kept your ego in control.
Things to Consider When Choosing a Baby Middle Name
Check The Flow
According to naming experts, the best option is to speak the chosen name out and listen for any pleasant rhythms. However, having too perfectly-matching names is not always a good idea. For example, the name with the ending consonant sound flowing into the next won't sound nice. Jack Colton and Catherine Nell are two examples.
If the middle name has a different number of syllables, it also sounds smoother. As a result, you can pair one short name, like Lee, with a longer one, like Jessica, or vice versa.
Meaning and Personality
Many parents will give their baby a middle name from the Bible. Others focus on the meaning and origin. You may choose a name that reflects the qualities you want your kid to have. Alternatively, wait until the baby comes and see which names just feel right.
Here are some familiar names for baby girls and their meanings:
Aria: Song
Bonnie: Pretty
Elsie: Plenty
Esther: Star
Grace: Goodness
Ivy: Vine
Kate: Pure
Marie: Lady of the sea
Raine: Queen
Selene: Peaceful
If you are expecting a baby boy, consider these middle names:
Alfonso: Noble
Callum: Dove
Dylan: God of the sea
Felix: Happy
Henry: Ruler
Leo: Lion
Silas: Forest
Tate: Cheerful
Walter: Commander
William: Resolute protector
Think about The Initials
Check the potential name's initial so his peers won't tease him about that. Some examples of terrible middle names when written with initials are:
Brian Anthony Dixon (B.A.D)
John Rocky King (J.R.K)
Finn Ulysses King (F.U.K)
Alex Simon Smith (A.S.S)
Steve Ethan Xygar (S.E.X)
Consider Nicknames
The middle name can be a part of your child's nickname. Hence, when choosing one for your little kid, consider which nicknames he may have in the future.
Name After Someone's
The middle position is ideal for honoring a friend or relative. Middle names are less popular than first names, so you won't need to worry much about the style factor. You can give your child a stale middle name, like Gertrude and Ralph. People also use the middle name as a place to hide the last name they don't like or as a spot to include the mother's family surname in the name.
Choose an Eliminated First Name as The Middle Name
Sometimes parents can't agree on one first name for their baby. Why don't you pick one of the two options as the middle name? For example, if the father chooses William while the mother loves Mark, include both your baby's full name. So, we will have William Mark Smith or Mark William Smith.
Try Two Middle Names
The rules for using middle names are pretty flexible. If you can't decide on the one that works best, go for two, and things will be fine. So if you and your partner have fantastic suggestions, use both. We have many examples for this case, such as:
Lincoln Henry James Arrington
Michael Matthew Cade Thompson
Harrison Daniel James Ruley
Irene Mary Louise Cunningham
Sarah Carey Lee Cummings
Wrapping Up
Ultimately selecting an appropriate middle name for your baby Ryder is a personal choice, and you know your little one best. With that in mind, try not to feel too much pressure when making any decision here. You always have time to research possibilities and choose what works best in situations like this.
Remember to think about family ties and meaningful connections whenever possible, but most importantly, trust your instincts and go easy on variant spellings.
It pays off in the long run by avoiding sounds confusing people in future formal contexts as they grow up. Most of all, have fun with it and enjoy the process of picking out the middle names you desire for the little person who will soon be bedding great joy and happiness into your life.
And if you're still looking for more great suggestions, try these middle names for Amara, middle names for Elliott, and middle names for Noah.