Presently, meal replacement shakes have become a magical solution for those who want to meet their daily nutritional goals but have no time to pursue them.
They are also a great way to take off weight or maintain weight, with protein helping satisfy hunger and control appetite. Still, are meal replacement shakes safe to use while breastfeeding? The answer is yes.
However, it also depends on many factors: the amount you take per day, your health status, and the brands you choose.
Let's dive into this post to get a more detailed answer and other relevant facts!
Can You Drink Meal Replacement Shakes While Breastfeeding?
First of all, you must be clear about meal replacement diets since many people get confused about the purpose of using them.
They wrongly think of meal replacement shakes as 100% full of vitamins, protein, minerals, and other nutritious foods. Even worse, some are using shakes to replace all of their meals, which is detrimental to their health and their babies.
It's just a kind of easy-to-prepare or ready-to-eat food, which you can mix with milk for quick consumption. When you don't have time or energy to cook, you can drink a meal replacement shake as a snack or replace a short, calorie-controlled meal.
It's critical to absorb enough nutrients and calories to stay healthy, recover postpartum, and establish a healthy milk supply to breastfeed your baby.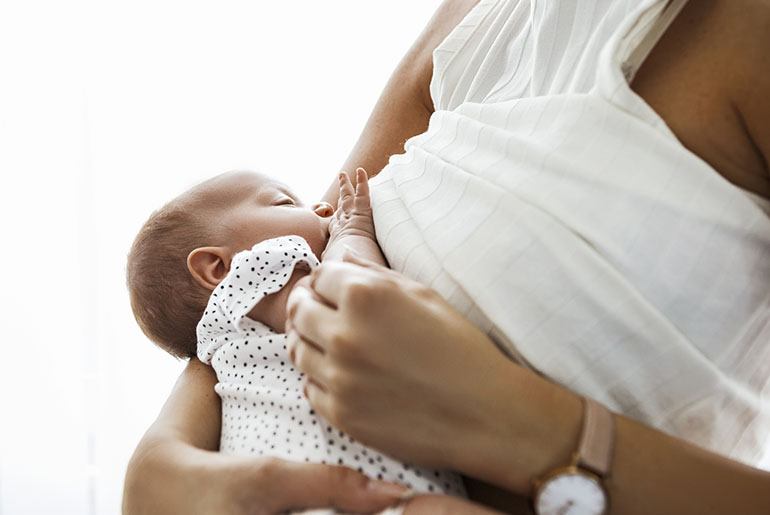 Generally, it is acceptable to consume meal replacement shakes when breastfeeding. But make sure the brand you choose is high-quality and reliable, and their products must not contain any artificial nasty.
Whether you are using meal replacement powders or making homemade drinks, you must consult with your health provider first. It is best to show him the brand so that he can give you the best advice!
What Are Meal Replacement Shakes?
This section will help you have a better understanding of meal replacement drinks.
The Purpose of Meal Replacement Shakes
A meal replacement shake is a convenient solution for a quick meal, suitable for those who have much time.
Different from protein shakes, juicing, or smoothies, these products can substitute the nutritional food you consume in a meal while reducing calories overall.
These drinks contain protein and other nutrients, commonly used for losing weight or maintaining weight.
According to research, meal replacement shakes can take the place of 1-2 meals in a daily diet. They provide more fiber, carbs, and calories than protein shakes while having fewer calories than everyday meals.
For example, if you consume a meal replacement shake that contains 300 calories, it can offer the same amount of micronutrients and macronutrients found in a standard 500-700 calorie dinner or lunch. It's much more than a glass of fruit or vegetable juice!
What Nutrients Are In Meal Replacement Shakes?
Meal replacement shakes are high in the vitamins, minerals, carbohydrates, and amino acids that your body requires to function properly.
It's critical to include protein, fiber, and necessary minerals and vitamins like vitamins B, vitamin D, potassium, calcium, and iron to prepare the ideal meal replacement shake.
In short, meal replacement shakes are a time-saving method to get these nutrients into your body.
The Main Differences Between Meal Replacement and Protein Shakes
It is important to note that meal replacement and protein shakes have different nutritional profiles and help you achieve different health goals.
Protein shakes are aimed at muscle gain and athletic performance, whereas meal replacement shakes are intended for weight loss.
There is also a considerable difference in their uses. While you can drink meal replacement shakes to replace 1-2 meals in your daily diet, protein shakes are designed to augment rather than substitute a meal.
How to Make Homemade Meal Replacement Drinks?
If you are unsure about the replacement shakes on the market, you can make your own at home.
It won't take long, but it will ensure you don't consume any chemicals or artificial sweeteners found in ready-made shakes, which are unhealthy while breastfeeding.
That's not to mention you can use your favorite ingredients, which will whet your appetite!
Here are a variety of ingredients you can try:
Protein Powder
Vegetables
Fresh or frozen fruits
Juice
Milk or yogurt
Non-dairy milk, like soy milk, oat milk, or almond milk
Oatmeal
Raw, unsalted nuts
Hemp seeds or chia seeds
Natural sweeteners, like maple syrup or honey
Probiotics
Brewers Yeast Powder
If your doctor says that you can consume meal replacement when breastfeeding, you can follow our instructions below!
Step 1: Pick your favorite ingredients.
Step 2: Add a proper amount of protein powder (make sure your doctor approves it).
Step 3: Use a blender to mix those ingredients!
Here are three recipes of meal replacement shakes you can refer to.
Banana Chocolate Protein Smoothie Shake
This 290-calorie chocolate banana shake contains 5.5 grams of fat, 28 grams of protein, and 35 grams of carbs. You can use it as a mid-morning shake.
Ingredients:
One medium banana
1/2 cup of almond milk
One scoop of chocolate protein powder
1 tsp of ground cinnamon
1 tbsp of cocoa powder
Strawberry Protein Powder Shakes
This tasty strawberry protein shake provides you with 283 calories, 8.7 grams of fat, 29 grams of protein, and 23 grams of carbs.
Ingredients:
1 cup of strawberries
1/2 cup of almond milk
One scoop of strawberry protein powder
1 tbsp of chia seeds
Vanilla Berry Protein Smoothie
This 303-calorie Vanilla mixed berries shake has 8.7 grams of fat, 29 grams of protein, and 24 grams of carbs.
Ingredients:
One scoop of vanilla protein powder
1/2 cup of almond milk
1 cup of berry medley
1 tsp of ground cinnamon
1 tbsp of chia seeds
FAQs
1. Do Meal Replacement Shakes Have Side Effects?
Yes, they do. Some meal replacement shakes may have a lot of sugar, sodium, artificial chemicals, and synthetic vitamins and minerals, to name a few drawbacks.
Though these products are widely available, most consumers are unaware of their side effects.
Weight Gain
Though meal replacement drinks are intended to aid weight loss, some are made to promote muscle building or overall weight gain, meaning they contain much more calories.
If you start drinking those meal replacement shakes in addition to your regular diet, you will add calories. And if not burned off, they will lead to weight gain.
So before buying any shakes, make sure you get to know the function of that product – lose weight or gain weight. Then, check with your health provider whether or not you should use it while breastfeeding!
Digestive Discomfort
In the form of powder, whey protein is a common ingredient in meal replacement drinks. Though it contains less lactose than milk, it still has lactose.
Even if you can tolerate lactose, drinking it might affect your digestive system. Nausea, bloating, and cramps are some side effects of high doses, according to "Men's Fitness."
Nutrient Deficiencies
Nutrition shakes contain many vitamins and minerals, making them a good substitute for natural foods. However, not all products are as healthy as a well-balanced meal. They lack some important substances like dietary fiber, antioxidants, and phytonutrients.
You may not think of fiber as an essential component, but it is a crucial part of a balanced diet. Constipation, diverticulitis, and hemorrhoids are all possible side effects of not consuming enough fiber. Some breastfeeding moms even add fiber supplements like Benefiber to their daily diet to counter this problem.
Harmful Additions
The Food and Drug Administration does not regulate meal replacement drinks since they are categorized as dietary supplements.
According to a consumer report, most commercially meal replacement shakes contained traces of heavy metals cadmium and mercury, and 15 of them had traces of arsenic.
Low-level chronic heavy metal poisoning can cause health problems like weakness, headaches, fatigue, muscle and joint pain, and constipation over time.
2. Can Meal Replacement Shakes Help You Lose Weight?
Meal replacement drinks might help you eat fewer calories while still feeling full. As mentioned above, meal replacement shakes can deliver the nutrition of a full meal, whereas protein shakes can not.
According to a study, you can replace 1-2 meals per day with a reliable meal replacement product to lose weight. It can even control your weight after you've achieved your goal.
As you might not know, the glycemic index measures how rapidly food raises blood sugar levels. Fortunately, meal replacement drinks have a low glycemic index, helping distribute sugar into the bloodstream and control your hunger. Your body will digest low-glycemic-index food more slowly than other snack foods that contain simple carbohydrates and sugar.
It's also worth noting that having the proper protein is crucial for meal replacements to work effectively.
Protein aids in lowering the glycemic index and has an effect on hunger control and weight loss. So meal replacement shakes with high protein, and a low glycemic index will ensure a high-quality diet for your body.
3. Can I Drink Meal Replacements All Day?
Meal replacement shakes are suitable for breastfeeding mothers as a healthy choice only when they need a quick meal. Still, make sure you don't drink it more than once per day.
Otherwise, your body will not have enough calories for breastfeeding. After all, your health and your baby always come first.
Conclusion
You can drink meal replacement shakes when breastfeeding, but make sure you've checked with your health provider. Ask him about your health status, the amount you should take per day, and the brand you will purchase!
Last but not least, no matter how busy you are, do not skip meals! Your body and your baby need many nutrients from your diet, so try to streamline your daily routine and leave more time for you.
If you have any further questions, don't hesitate to contact us. We want to hear your response and will reply to you as soon as possible!