Peace, love, and a connection with nature were prevalent in these hippie names from the 1960s. It was about being a gentle soul and interacting with the environment around.
Hippie names have affected every aspect of life, especially the names of children. People selected names that highlighted free spirit and nature rather than traditional names.
These names are starting to resurface, particularly in Hollywood. So you are also interested in a hippie name for your beloved child. Why should you get a cute name for your baby? Below, we have compiled a cool list for you to choose from.
Why Choose a Hippie Name for Your Baby?
There are various reasons you would choose to give your infant kid a hippy name. Names associated with the hippie era are making a comeback.
Strange-sounding names are suddenly rocketing to the top of the baby name lists! Hippies are known for liking the outdoors and loving what Mother Nature offers; therefore, many hippie names for girls and boys are influenced by nature.
It is no shock that most of these names are from plants. Consider the words "organic," "flowers," "nature," and "green."
Because the 1960s were known for their artistic and musical inspirations, you will notice a lot of artistic indie hipster nicknames. Hippie names are a terrific way to honor nature while giving your child a name.
A hippie name is an excellent choice if the planet is significant to you. Nowadays, hippie baby names are growing increasingly, and many parents have chosen this name for their children.
Your kid will not have other kids with the same name in their school classrooms if you choose a name that isn't very popular.
Hippie and boho names are popular because they evoke a sense of "freshness." These are uncommon names that people have not abused in previous years.
Unique Hippie Names for Boys
Look at these lovely and popular hippie names inspired by nature, groovy, flora, and the 1960s mood. For your tiny flower child, these are the perfect distinctive bohemian names!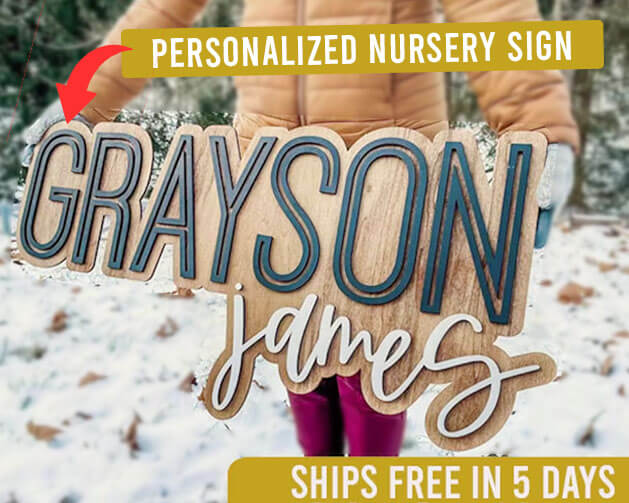 Baby Name Sign
Celebrate your baby's name with this personalized nursery sign! It's high-quality, charming, and elegant. Free shipping and 5-star service. Don't miss this opportunity to create a lasting memory for your little one.
A
Arlo
The notable owner of this word is Arlo Guthrie, a musician best known for opposing social injustice via song in the 1960s. Even now, Arlo comes out as calm and laid-back. This name represents freedom and peace-loving.
Amber
Its Arabic name means "jewel ." It is a lovely warm honey tint. This name contains the diversity of nature but radiates the warmth of the honey color.
Amethyst
Violet gemstone is the inspiration for this name. It shows pomp, elegance but is full of faithfulness.
Aria
Aria has a variety of connotations depending on the origin, but the most frequent are: melody or air (in Italian), lioness (Hebrew), wealth (Albanian), and nobility (Persian).
Aspen
The meaning of this earthy baby name is "shaking poplar tree," and it reminds us of snow and mountains, a harmonious natural landscape with snow, mountains, and warm poplar trees.
Alchemy
Among the most dramatic word names is this term. Only mystically inclined parents should consider this name. You should take note that if you want to give it to your girlfriend, spell it Alchemy.
Arrow
The name has such a popular 'o' ending, which elevates it even farther into the realm of greatness. It contains the special, the outstanding that no other name can match.
B
Birch
This name conjures up images of a towering, beautiful white-barked tree. Birch Evans Bayh, the recognized state of the Equal Rights Amendment, is the most well-known bearer of this nickname.
Bear
Due to Bear Grylls, this word has unexpectedly risen to the top of the kid name list. Although it can be endurance, hidden deep inside is the strength, the effort to rise up and not give up to fate.
Buzz
Many people remember Buzz as more than simply the 2nd man to set foot out of the earth. Also, it was a popular activity in the 60s.
People want their children to have a good name
Benjamin
Dr. Benjamin Spock instilled the value of attachment parenting in an era of hippy women. He even helped draft evaders and marched in anti-war demonstrations.
He is a symbol of love of peace, and compassion for people. Therefore, this name carries such a special meaning.
C
Cedar
Parents have begun to explore Cedar as a possible baby name, similar to Pine, Ebony, and Oak. Cedar Walton, a jazz musician, is a modern possessor of this name.
Calla
A flower is an inspiration for this lovely name. The word "calla" implies "lovely."
Callista
Callista is derived from Greek mythology and relates to an Arcadian who transformed into a she-bear; the word itself means "most lovely."
D
Dusk
It is the transition between night and day. This one would be an excellent name for any son. This natural name first appeared in the top-ranking list in the 60s and remained there for many years.
Dharma
Dharma is the correct method of doing things in Buddhist and Hindu civilizations.
The "Dharma & Greg" television show helped make this name more prominent. Your child will be the only Dharma in his class because Sanskrit is not widely taught.
E
Elm
Elm is a leaf baby name primarily utilized as a middle initial. It's leafy and solid.
G
Gaia
It was the surname of the mother of the Earth in Greek mythology, and it means "mother earth."
Gardenia
"Garden blossom" means this earthy name and has an English ancestor. A meaningful name that brings out the freshness of a flower garden.
Georgia
Gigi is a cute nickname for this earthy name, meaning "worker of the Earth."
H
Huckleberry
The hippies loved Huckleberry, a 19th-century slang term meaning "humble." Bear Grylls liked this name so much that he gave it to his kid and used the nickname Huck.
I
Indio
Robert Downey Jr and Deborah Falconer named their baby Indio, a desert city in California. You may call it a mash-up of the words India and Indiana.
Indigo
It did not become popular until the late 1960s, but it quickly rose to the top of the charts after that.
J
Jackson
This moniker's inspiration is Jackson Browne, a musician who staged rock shows to raise money for charity. He also composed songs for The Eagles Band.
People wish their kids all the best
Jerry
We believe it'd be a perfect hippy name, especially when paired with an earth-inspired surname or middle name.
Jack
With his work "On the Road," Jack Kerouac influenced several hitchhikers and those who like long drives. Also, he is best known for creating "Beat Generation" and "Beat Generation II."
K
Karma
Karma is a cool name for boys since it is from the notion of "what goes around comes around." Hippies in the 1960s were quite fond of this inclusive and peaceful nickname inspired by Buddha.
L
Liberty
The term "state of being free" is derived straight from the expression or word. It is frequently connected with New York's Statue. Liberty was used as a name on a few occasions in the past. In 1918, it was among the most popular names.
Leaf
Do you recall when Joaquin Phoenix was referred to as Leaf? It is because his parents were hippies. Rain, Liberty, Summer, and River were his siblings' names.
Lake 
Lake Bell brought this dramatic name to the fore. It represents the immensity, the lightness of those who bear this name.
M
Marley
Bob Marley was one of the most famous celebrities of the 60s, with his religious songs and a no-fear attitude. You can also go with Bob for your son's name to show strong appeal.
N
Nirvana
You may use Heaven, Peaceful, and Liberty are all words to describe Nirvana. The name is, without a doubt, a brilliant notion.
North
Kim Kardashian chose the name North for her kid, which drew great attention. However, people have used it for a long time, although discreetly and with a sense of power and purity.
O
Ocean
The ocean is from the Greek word Okeanos, a God's name in Greek mythology. Does not this name conjure up images of calm waves?
Orion
The brightest star in the sky at night is Orion. The hunter is another name after Orion, the mighty hunter in Greek myth who was exiled from the sky.
P
Peace
It doesn't get any more free-spirited than this. If you don't like this word, you may go with Pax, meaning "peace." Angelina Jolie and Brad Pitt have picked this name for their kid.
Phoenix
It is a fabled Egyptian creature with dazzling gold and red feathers that dies every 500 years and reincarnates from the ashes.
In Egypt, this bird represents immortality. It is also a fantastic namesake of the well-known American actor Joaquin Phoenix.
Prairie
This vibrant nature name Prairie belongs to the 3rd generation of western-influenced names. It picks off just where Jesse and Dakota left off.
Z
Zappa
Frank Zappa is a musician noted for his anti-establishment attitude. While Frank seems fantastic, Zappa has a hippy vibe to him. Dweezil, his son, Moon Unit, and his daughter are the epitome of hippy names.
Q
Quest
Quest is a moniker for a guy who enjoys being alone in his lovely world. The name also has the sound of a hero from a book.
These hippie names may have effects on the owners
S
Skye
Skye is a derivative of the sky, which became popular around 1987. Besides, Skylar and Skyler are both short forms of this name. Skye Sweetnam is a household name in the music business.
Sage
Sage is an evergreen shrub ideal for both medicinal and culinary purposes. Any name would look well with this Latin term. Sage is a word that means "wise."
Sparrow
Sparrow is a special name. When Nicole Richie and Joel Madden used it for the baby, it strayed into the masculine territory. The name is sure to draw notice, although pleasant attention.
R
Rain
Rain is a natural-inspired baby name that is cleanly uncomplicated, gentle with rain love songs. Although it is typically a gender-neutral term, we believe it would suit boys more than girls. Corey Hart, a Canadian artist, selected this name for his kid.
Robin
Robin Williams and C. Robin are just a few of the outstanding namesakes for this English short of Robert. A name contains strong masculinity and bravery.
Rock
Your children's name should be Rock, a masculine hippie name. The renowned namesake was Rock Hudson.
Rowan
According to Celtic legend, Rowan is a plant with healing, protective, clarity-enhancing, and vision-granting characteristics. It's a Gaelic phrase that refers to the beautiful red berries that coat the tree in the fall.
Rebel
For your newborn boys, Rebel is a super-duper hippie name. Consider how amazing your youngster would look in his small leather jacket on the playgrounds.
W
Wolf
This name is a standard abbreviated version of Wolfgang in Israel and Germany.
Cute Hippie Girl Names
It is not difficult for parents to find a cute and unique boho girl name. Here are some baby names that you should consider.
A
Autumn
Autumn is one of the most well-known female season names. It will be ideal for a baby born in October. Autumn James is the name given to Jennifer Love Hewitt's lovely kid.
Ambrosia
Ambrosia is the feminine form of the word Ambrose, and it means 'meal of the gods.' It was in Roman and Greek mythology. If you wish your kid's names to stand out, we think it is a terrific choice.
America
For your youngster, Spirited would be a rebellious option. This name has a variety of connotations, ranging from sacred to breathing.
B
Bluebell
For your girl, Bluebell is a lovely nature-inspired children's name. Geri Halliwell gave her young princess the same airy name. And it surely attracts more attention.
Breeze
Breeze is a lovely name for a girl who is peaceful and kind. It evokes memories of a dream who enjoys going for long walks alone.
Blossom
Blossom is, in our perspective, one of the sweetest and most modern hippie names. It is also a little more attractive than Rose or Lily.
C
Celeste
Celeste inspires thoughts of doe-eyed, curly-haired with its delicate melody and esoteric meaning.
Cayenne
Why not Cayenne if you can enjoy Saffron, Coco, and Clove? Cayenne is a charming and sassy name, in our opinion.
One of Porche's SUVs is even named just after the flavor. A girl named Cayenne will have her own thoughts.
Crystal
Crystal is the most fashionable name derived from "krystallos," a colorless glass sliced into a gemstone form. Remember Krystle Carrington, a character played by Linda Evans on the dramedy "Dynasty"? The "y" in the middle of Crystal makes it sound even more trendy.
Clover
This fragrant and sweet-tasting flower, a sign of riches, comfort, and longevity, has long been a hippy favorite. This natural name is given to males more often than girls, and it seems much more incredible when said with a long 'lo' accent.
Carly
Carly Simon is a singer-songwriter who was once married to James Taylor. Her songs "You're so Vain," and "Anticipation" are still well-known. Carly is a unique take on the name Carla.
D
Daisy
Daisy began as a name for Margaret then quickly evolved into any given name. It used to be among the most common words from the 80s through the twentieth century.
Dawn
Dawn is another sun-inspired nickname for infant girls, among Soleil, Sunny, and Sol. This girl's name conjures up images of peaceful mornings. It is not a nod to hippie culture with a cheerful and upbeat name.
People often name their baby during pregnancy
E
Essence
America comes from the Latin geological designation Americus, which refers to the continent discovered by Amerigo Vespucci in 1507. Since the 1800s, this nickname has been used as a surname on an irregular basis until America Ferrera.
F
Freedom
Freedom, the ability to talk, act, and feel without being restrained, conjures up images of the hippy era. This name first appeared on the recognition list in 1975 and has since reached numerous ranks alongside other vocabulary terms.
G
Genesis
Genesis has revived as a result of the craze for Biblical names. Genny is a beautiful nickname for this great name.
Gypsy
Gypsy is a name for a girl with a go-with-the-flow and an eclectic personality. This name denotes a person determined to follow her path in life.
H
Henna
This word is a variant of the ever-popular Hannah in the United States. It would undoubtedly appeal to yoga-obsessed females.
Harmony
Harmony is from the Greek term "Harmonia," which means "a melodic tone," which denotes "agreement, understanding, and oneness." Harmonia was the god of peace and the child of Aphrodite in Greek myth.
I
Infinity
Everyone will be reciting the words from "Toy Story" – "To infinity and beyond!" It is a name that represents the vastness and freedom of character.
J
Journey
The name Jurnee may also become Journey. It has made it into the top 1000 names for newborn girls.
Jasmine
Jasmine is derived from the lovely-smelling flower and means "The gift from God."
Read more: 120+ Popular Baby Boy and Girl Names Meaning Gift From God
Jenna
Jenna is a lovely Welsh girl's name that means "white wave."
Jetta
The name translates to "stone from Gagai" and alludes to gleaming jet-black rocks.
Juliette
It is a lovely French name that means 'youthful' or 'young.'
Joan
Do you know Joan Beez, who is a well-known hippy, singer, and songwriter? People knew her as the "Queen of the Folk" as well.
Jane
There was an archetypal hippy and an ardent critic of the War In Vietnam named Jane Fonda. She even went to Hanoi, which was a contentious excursion. Fonda and Jane are both excellent names.
Juniper
The word Juniper has a refreshing quality: the green plant produces a crisp, citrus-flavored, and clear gin. This plant, like people, can develop and adapt to many conditions.
L
Light
Light is almost sure to have a carefree demeanor and a bright personality. It's also the leader of her college's revolutionary group.
M
Moon
Anyone would be brave to choose this magnificent name. Frank Zappa, a well-known musician, gave his daughter the name Zappa.
Do you know what his other daughters' names were? Ahmet, Diva Thin Muffin, and Dweezil.  You can also choose Luna as an option.
Meadow
It is easy to think positively about this lovely hippie name. It can only conjure up beautiful green fields and a tranquil river.
Maya
Another lovely name with several meanings based on origin, but the most popular are: 'water' (Greek, Spanish, Hebrew), and "illusion" (Sanskrit).
Marigold
This earthy newborn daughter's name means "golden flower," just like the vivid flower.
Meena
This lovely Sanskrit name conjures up images of the sea and fish.
Misty
"Mist" is the meaning of this lovely natural girl's name.
Monet
It has a sophisticated artistic bohemian air to it, and it means "to be understood."
Myrtle
The meaning of this hippy nickname is "evergreen."
O
Ode
This lyrical baby girl name is one of our favorites. It also features the moniker Odie as an option.
R
Rainbow
Rainbow has faded into oblivion once the most flamboyant hippie name, which might be advantageous to you. At the very least, your kid's school will have rainbows.
Raven
Raven is a lovely, resounding, and assured name revived in recent years of the Disney show named "That's So Raven." For families, this term is still a standard pick.
Raya 
Raya Sunshine is an excellent hippie name combo. It has the sound of a "beam of sunlight," which is appropriate for a newborn.
S
Somer
This name comes from the Old English word "summer." It, like Spring and Autumn, is widespread. Suzanne Somers portrayal of Chrissy Snow on "Three's Company" sent this name to the top of the charts in 1977.
Stella
Do you believe a girl named Stella could be anything but bright and lovely? Stella, Estrella, and Etoile are some of the numerous versions of this charming name.
Sonny
This name conjures up images of the music duo Cher and Sonny. Sonny is a name that evokes feelings of love and tranquility.
The more lively spelling variant, Sonny, is employed for the ladies. So nothing is keeping you from giving your child this name.
Sierra
Sierra is a popular hippie name for girls based on location. It has been a popular option since it debuted in the top 100 list in the 93. Its success can even be attributed to PepsiCo's Sierra Mist soft drink.
Sequoia
Sequoia is a beautiful modern-sounding natural name for a little girl. The gigantic green tree Sequoia is in abundance across Northern California. It is perfect for a free-spirited, adventurous girl who enjoys being outside.
Serenity
This beautiful baby name conjures up images of spiritual quiet and mental peacefulness. It's still a popular name among parents that want a bohemian lifestyle. If you like, you can go with Serene.
Spirit
For your youngster, Spirited would be a rebellious option. This name has a variety of connotations, ranging from sacred to breathing.
Saffron
The name of the world's most expensive spice becomes the choice for many parents when naming their babies. It was a hippy favorite in the 1960s, and is also linked to the British comedy series "Absolutely Fabulous."
T
Topaz
Topaz is a seductive and refined name, just like the golden stone. It's the birthstone for November; therefore, it would be an excellent choice for females born in Nov.
Z
Ziggy
It is the cutest thing we've ever seen. This name is also a tribute to the Marley family. Bob Marley's son's actual name isn't Ziggy. His original name was David, but Marley gave him the moniker Ziggy in honor of a favorite plant.
W
Willow
Willow was employed in alternative medicine for thousands of years in the past. Will Smith and Pink gave their kids this name, which has lately acquired popularity as a name for many baby girls. This name was also popular among hippies!
Conclusion
Finding a unique and appropriate name for a new baby is not easy. It can affect the baby's future. Hopefully, the above list of hippie baby names will help you give your boho baby a really cool name close to Mother Nature.
If you have any ideas about this, please let us know. Thank you for reading!